The Icons of the Synod
Presentation of the Icons of the Synodal Path
Jesus and the people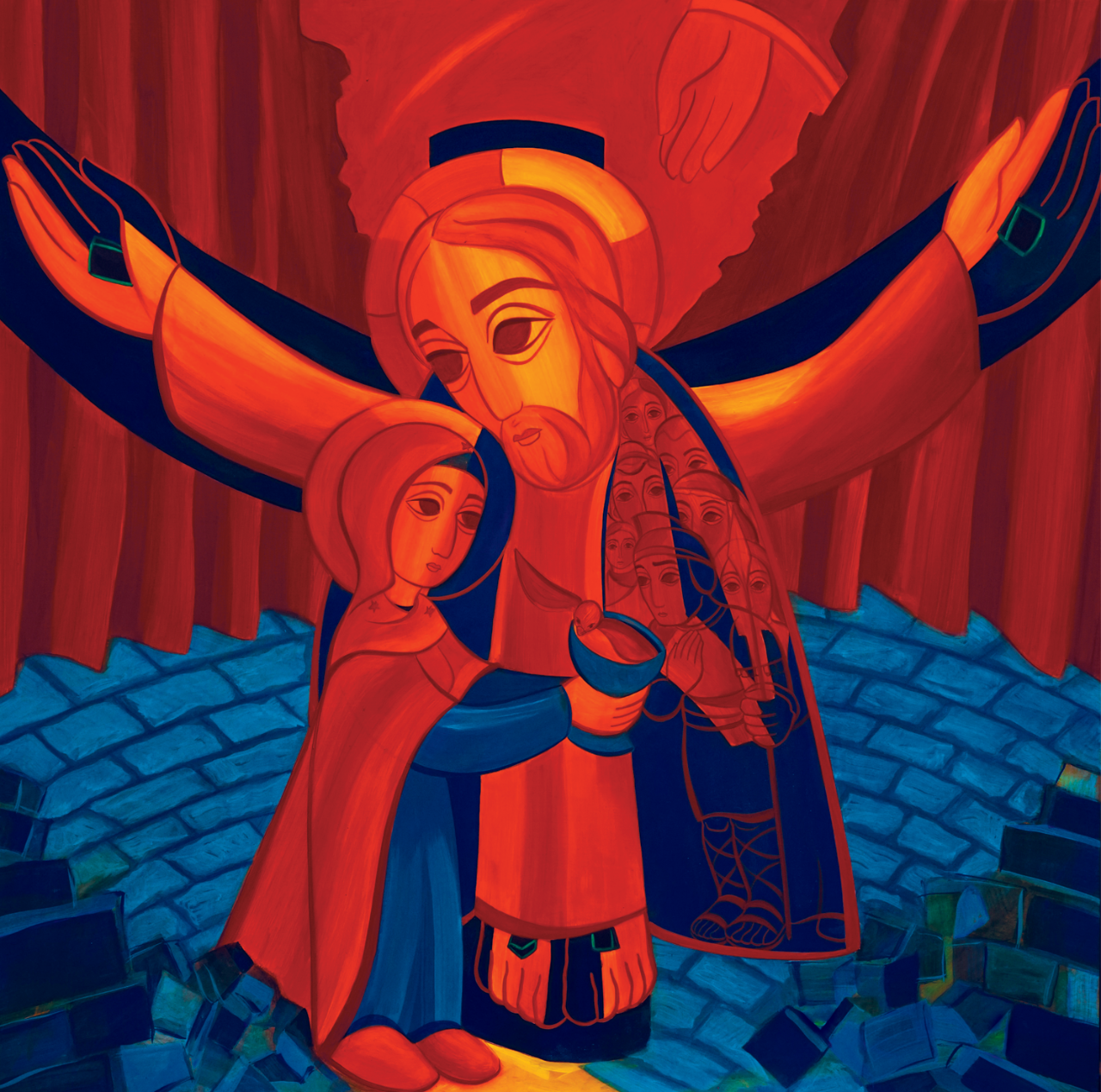 Christ, Crucified and Risen, is the High Priest who takes part in our weaknesses and who, through the sacrifice of himself unites humanity with God the Father. In his self-gift, Christ breaks down the wall that in the temple separated the chosen people from the pagans. There is no longer any separation; the possibility of walking the road of new life is open to everyone.
Beside Christ, the Mother of God, a figure of the Church who gathers the water and blood that flow from the pierced side of her Son, symbol of the sacraments. A dove is hidden inside the chalice. We contemplate the gift of the Holy Spirit who makes us participate at the life of God himself, the filial life, the life of communion.
Mary-Church, united to Christ, offers the chalice to the centurion, a "pagan" who in reality is the first believer. Behind him opens up a crowd of people who, then, will also be clothed with Christ, indeed, woven into the Body of Christ.
The priestly stole reminds us that, by assuming human nature, Christ has opened to all humanity the possibility of becoming sons and daughters and of living life as communion, as peace, as reconciliation.
The conversion of Cornelius
We contemplate an everlasting Pentecost. Around a table, we see the apostles with Peter in the center Cornelius with his family on the right Cornelius. From the hand of God the Father flow the flames of the Holy Spirit, enlightening everyone and giving them filial life. Mutual understanding, collaboration, communion, the unity of humanity is not only a horizontal reality, but a gift that comes from God the Father and that must be received. This gift is the love of God that has been revealed to us by the Pascha of Christ.
The center of the image is therefore the Paschal Lamb (cf. Rev 5:6), immolated, but alive, upright and radically oriented to the Father. His wound brings to mind what we contemplated in the first image and continues to remind us that synodality is a gift that comes from the heart of Christ. On the table there is a cloth with various animals (cf. At 10,28-29). There is nothing impure in the eyes of God. The Canaanite woman (cf. Mt 15:21-28), the one who, humbly asking for the grace of healing for her daughter, reminded the Lord that even little dogs eat the crumbs that fall from the table, makes clear that all are welcome at the table of the Lamb.